JNA Activities
JNA Activities
Approved as a "non-profit social corporation" under Article 34 of the Civil Code, JNA engages in activities that contribute to the health and welfare of the Japanese public. Since its establishment in 1946, JNA has worked toward enhancing nursing standard in Japan through organizing support activities for members and undertaking initiatives that address challenges in the areas of public health, medical care and social welfare. JNA periodically reviews a Code of Ethics for Nurses and standards of Nursing Practice in order to improve the quality of nursing care. JNA will continue to make social contributions providing "better nursing services" that meet the demands of the time.
Priority Policies (FY 2021)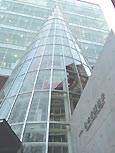 Promotion of reform of the basic nursing education system
Establishment of a system for nursing service provision which supports the community based integrated care for health, care and recuperation
Promotion of work style reform for nurses
Promotion of the role expansion of nurses and development of human resources for nursing
Development of a base for optimizing the nursing registration information and utilization of nursing profession
Strengthening crisis management system in the community
Future Vision of Nursing: Nurses' Endeavour toward 2025
- Nursing Supports and Sustains Human Life, Living and Dignity
This publication is currently under a minor revision. It will be back within a couple of weeks. Sorry for your inconvenience.
We appreciate your patience.
Thank you.
Japanese Nursing Association
COVID-19 Update
From the Frontlines of COVID-19
Nurses across Japan are continuing to work hard in fighting the pandemic. During the rapid increase in the Coronavirus diseases (COVID-19) cases, what was happening at the frontline? What were the nurses' thoughts, decisions and actions? The Japanese Nursing Association (JNA) will share the stories of Nurses in Japan and their battles with COVID-19.
Survey on Response of Nurses to COVID-19
Comming soon
Projects
Code of Ethics for Nurses
It is one of the prerequisites for a profession to have professional code of ethics to discipline own practice. Since JNA adapted "Code of Ethics for Nurses" in 1988, the condition of nursing profession has changed greatly and nurses are frequently confronting complicated and difficult ethical challenges as health care become advanced and complex and people have high interest in their right. Therefore, JNA reviewed and revised "Code of Ethics for Nurses" in 2003. JNA Code of Ethics for Nurses is the bases of Japanese nurses to do ethical discretion in their practice.
We would like to hear your feedback about our website.