The Great East Japan Earthquake
The Great East Japan Earthquake
Message from JNA President
Facing the Great East Japan Earthquake that has struck us with such an unprecedented and devastating magnitude, I sincerely appreciate the deep sympathy and strong support from nurses and national nurses associations around the world, which is so caring and encouraging.
Japanese Nursing Association (JNA) was reorganized as a public interest incorporated association in this April and then I was elected the President at the General Convention in June, succeeding Dr. Setsuko Hisatsune. At the same Convention, JNA has determined to promote the "Reintegration Support Project after the Great East Japan Earthquake" as one of the top priority areas.
As the initial activity in the Project, we are now administering a survey of the affected nurses. In the survey, we send the questionnaire to individual nurses and their work place in order to confirm their safety and collect data concerning the damages cause to their body and residence and the actual situation of their employment. The findings will be utilized when we support the reconstruction of the nursing departments in the affected hospitals and the affected visiting nursing station.
In addition, JNA is engaged in a mid- to long term program to support the affected nurse or nurses who are taking care of the affected people. For this purpose, it is essential to provide livelihood support to those nurses as well as re-employment opportunity for the nurses who lost their job.
Although we are faced with so many issues in front of us, JNA will keep on working, making use of our performance with which we have been delivering effective interventions in a timely manner since the occurrence of the Earthquake.
President
Suga Sakamoto, RN, RNM, PhD
JNA's activities
In the face of unprecedented crisis, JNA has grasped the needs of the affected areas and delivered flexible support activities. The activities are divided into 3 phase: (1) initial response, (2) medium-term support, and (3) long-term support.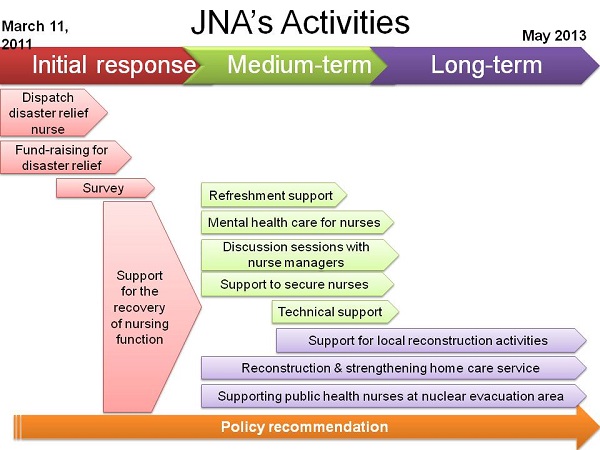 We would like to hear your feedback about our website.